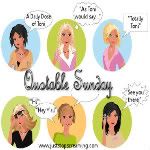 I came upon this "QUOTABLE SUNDAY" meme while catching up with my followers blogs.
I haven't tried this one so I'm new to this one....But it looks fun. You grab the link, make a post about anything that you would like to on quotes and then go check out other blogs that have participated in this as well....There are some good postings out there...Oh be sure to leave your link @ A Daily Dose of Toni http://juststopscreaming.com/2009/11/quotable-sunday-housework- she has some good ones, go on check her out and start your quotes for the day:)I have choosen to do LIFE qoutes...
Do not dwell in the past, do not dream of the future, concentrate the mind on the present moment.
Buddha
Your life is what your thoughts make it.
Marcus Aurelius
My formula for living is quite simple. I get up in the morning and I go to bed at night. In between, I occupy myself as best I can.
Cary Grant
Life is a series of collisions with the future; it is not the sum of what we have been, but what we yearn to be.
Jose Ortega y Gasset
Life is a dream for the wise, a game for the fool, a comedy for the rich, a tragedy for the poor.
Sholom Aleichem
"Life is short and so is money."
-Bertolt Brecht
"It's a funny thing about life; if you refuse to accept anything but the best, you very often get it."
-W. Somerset Maugham
This image is from Banner Quotes