The time is slowly coming and I can't wait..Can you? Yeah I'm talking about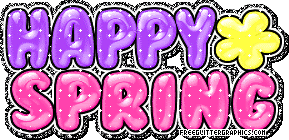 All the snow will be all gone:))
Yeah~WOOTWOOT!! I don't know about you all but me....I have had enough of the cold weather and the being stuck in the house for days.....(by choice of course....I don't work well with cold)lol
Then of course we know we gotta deal with the April showers that bring May Flowers.....I will take that over anymore snow....anyday!But I just love it when the flowers bloom and I get to plant some....not sure what kind i will plant this year...since we will be moving but that is in a different blog....post!!
I love
.....Yup I love me some FLIP FLOPS.....although they hurt my toes...I just can't live without them in the spring and summer......or I love to go barefoot...that is even better...feeling the grass on my feet...Oh that brings memories~Walking on gravel~OUCH......not looking forward to that.
What else happens in spring? Lets see.....we got
Easter...I love the coloring of the eggs....hiding them and having the kids find them! Well that was years ago....My kids are teenagers and I can try like heck getting them to hunt for eggs but I don't think it's gonna work well....My grandaughter is only 1 month old so I have easter egg hunting to look forward to with her when she is old enough:))Excited and looking forward to that.
No way could I forget the
Well Thanks for stopping by and hope you are looking forward to spring as much as i am.......Happy Blogging to all you wonderful followers;)